Dr. Gerhard Pfandl
Former Director of the BRI, General Conference of SDA, Washington, D.C.
From 1962 to 1964, I was student in Bogenhofen, and between 1977 and 1989 dean of the boys' dorm, lecturer, and pastor as well as education secretary of the Austrian Union. My most cherished memories of Bogenhofen are the classes with my students. Many of them work today in leading positions of our church, for example, three of the theology teachers of Seminar Schloss Bogenhofen: Heinz Schaidinger, Martin Pröbstle, and Johannes Kovar. Another, Martin Klingbeil, teaches at Southern Adventist University, Mathilde Frei teaches at Walla Walla College, and Gerald Klingbeil is one of the editors of Adventist Review and Adventist World at the General Conference of our church.
I myself worked as field secretary in Australia for many years and then worked for 14 years at the Biblical Research Institute of the General Conference, where I still work as a volunteer since my retirement.
During my time at the GC Research Institute, I participated in many Bible conferences around the globe, taught at more than a dozen of schools all over the world, wrote many articles, and some books. I am currently working on a Bible commentary on Daniel, editing an English study Bible, writing three different chapters in three different books, and answer questions for the Research Institute, Hope Channel, and Doug Batchelors bible study course.
My time at Bogenhofen is one of the dearest memories of my life. I am very pleased that this school still trains many leaders of our world-wide church.
Markus Kutzschbach
Associate Director of the White Estate, President of Adventist Heritage Ministries, General Conference of SDA
My fascination with Advent history was established in Bogenhofen. I found it fascinating how God repeatedly intervened in history for His people and His plan of salvation. I particularly enjoyed the Adventist history and archaeology classes, as well as the joint learning with fellow students.
I would not hesitate to choose to study at Bogenhofen again. This school strongly influenced my life of faith, and the foundation that was laid there is excellent.
Dr. Oliver Glanz
Professor of Old Testament, Andrews University
Bogenhofen was an important, formative and crucial place for me. There are, of course, several such places in my life – and I would not want to miss any of them. But Bogenhofen was one of the most special. Why? Actually, with the one-year Bible Study program I wanted to prepare myself spiritually at Bogenhofen for my university studies in Germany (for teaching history, philosophy, literature for high schools).
This "preparation" then became a BTh. Teachers who lived out their teaching service not only as a profession, but with a lot of passion and vocation, led to this "extension." In addition to passion, the teachers also all had unique personalities. Every single teacher had a profile, not only theologically, but also experientially. In addition to the teachers, it was also the surrounding area with its proximity to the Alps that made Bogenhofen a special place. Secluded, yet a short distance to Salzburg, Munich and Vienna, Bogenhofen is centrally located. The possibilities of being able to walk on the banks of the Inn, to take Sabbath walks in nature, to play ice hockey, swim, play beach volleyball, were integral factors of what made Bogenhofen so pleasant.
A third key factor was social dynamism. Bogenhofen had something casual, familial. There were no hierarchies. The distance to the "superior" teacher and to the "subordinate" "gymmis" (academy students) was very short, brotherhood and mutual respect overlaid all relationships. The connection with each other was always personal and kind. This closeness, however, was not experienced as oppressive. This was probably due to the fact that formative individuals did not usually take themselves too seriously. This created wit, humour, pranks, and self-irony among all Bogians. This become apparent not only in the evenings, in the "Saftladen", during weeks-of-prayer, etc., but also in the classroom and while working in the afternoons.
Bogenhofen also became primarily a formative school for me because there were important fellow students who helped shape me. Bogenhofen seems to attract unique students who contribute to making this place what it is. With some students, I was able to form friendships for life that to this day are enrichening on not only a social but a theological-philosophical level, as well.
There is no doubt that I would choose Bogenhofen again. Since my time there, I have grown theologically and philosophically, due in part to further studies at the universities of Erlangen, Amsterdam, and Leiden. That this occured in such a positive and mission-oriented manner was only possible because of the invaluable influence Bogenhofen had on me.
More recently, I have been able to work on numerous projects inside and outside the church. I participated in the organization of the Germany-wide evangelic TV campaign "Simple.Faith." I am the author of the Jeremiah and Lamentations commentaries of the new International Seventh-day Adventist Bible Commentary. Of the Bible Online Learner tool that significantly improves the learning and teaching of biblical languages at SDA and non-SDA universities, I was co-developer.
Currently, I lead an international research project with prestigious universities (Amsterdam, Sydney) in which the entire Qumran collection of Abegg are linguistically analyzed. In addition, I am currently working on the integration of digital human science methods in exegetic research (text-grammatical analysis of Hebrew texts, valence research with Python).
Dr. Denis Kaiser
Assistant Professor of Church History, Andrews University (USA)
Through my studies, spiritual life, fellowship, and work at Bogenhofen, the desire to work for God and the church was strengthened in me. My faith, understanding and behavior became more balanced during my time there.
The study trips were always very enriching, and during these, we got acquainted with our fellow students and the teachers better and in a different context than just the classroom. This was very valuable and encouraging for my own study and desire to work for God.
I would definitely study at Bogenhofen again. During the bachelor's program, biblical, theological and methodological foundations were laid that strengthened my faith in God and the Bible. Furthermore, my studies in Bogi helped me to think in a more nuanced way. As I continued my studies, I was able to delve deeper into certain areas and discover how complex many things are. Without such a solid foundation, one is in danger of becoming either narrow-minded or over-critical. However, exploring complex topics can teach one humility and trust in God. Through the solid training in Bogenhofen, I learned not to be satisfied with simple answers, but to dig deeper and deeper.
During my time at Bogenhofen I was already able to work on my first projects for our church. In the meantime, many more have been added, including:
Digitization of sources from the Ellen G. White Study Center and the Ellen G. White Estates (led by two classmates at Bogenhofen).
The biography of Ellen G. White in the Ellen G. White Encyclopedia.
Completion of Ellen G. White Letters & Manuscripts with Annotations, 1845-1859; Beginning of research for the second volume (1860-1863).
Editorship of the Encyclopedia of Seventh-day Adventism.
Work on the Oxford Handbook of Seventh-day Adventism.
Eugen Hartwich
President of the Baden-Wuerttemberg Conference
During my time in Bogenhofen, I was particularly influenced by the statement, "Education and redemption are one!" Even though I am no longer studying at Bogenhofen, I am still a student in God's school of life.
One of the most beautiful moments in Bogenhofen was the spring week-of-prayer in 2007. I was able to experience this spiritual event with Margarita – we were at the beginning of our relationship. Now we have been married for many years.
If I had to choose again, I would definitely study at Bogenhofen once more. It is here that I received a solid and well-founded theological education and made friends for life. Both are treasures for eternity.
Helge Külls
Financial Secretary of the Baden-Württemberg Union
At Bogenhofen, I had the privilege of learning how to understand the Word of God more deeply in an environment of faithful, biblically-grounded Adventist teachers. Furthermore, I was able to experience Bogenhofen not only as a student, but later also as the district pastor. These were special experiences for me that have had a positive impact on my service to this day.
To experience and enjoy Adventist education with my family was great. In addition, it was and is a privilege to be able to make new friends and be part of a vibrant school community. I have spent 12 of my last 15 years in Bogenhofen, as well as the surrounding area in various functions, and I think that speaks for itself. Bogenhofen stands for Christ, quality, youth, dynamism, community and vision!
René Pieper
Executive Secretary of the German Swiss Association and President of the Adventist Construction Association
My time at Bogenhofen shaped me in various areas and prepared me for my future life. My faith was strengthened, the studies laid a good and firm biblical-theological foundation, and the communion with fellow seminarians and high school students provided friendships, some of which continue to this day.
A very special experience is clearly linked to my wife, whom I met and grew to love at Bogenhofen. In addition, I like to remember the weeks-of-prayer, which were always spiritual highlights for me and strengthened my faith. The times at the football field and beach volleyball court were also very nice and a good physical balance to study. I also like to think back to individual situations and events in the classroom that still make me smile or thoughtful. Of the abundance of beautiful memories, it is very difficult to highlight the most special one.
Due to the familial atmosphere on campus and the good biblical-theological basis I received in Bogi, I would definitely decide to study there again.
Vyacheslav Demyan
General Director Hope Media Group, Ukraine
Studying at Bogenhofen laid a firm foundation in my relationship with God. Bogenhofen shaped the DNA of my faith, which helps me to wisely make the most important decisions in life.
The studies were an immense challenge. Yet that is one of my fondest memories. You fight with time, with stress, and with yourself. You are dependent on God. I wish I could relive my studies of theology in Bogenhofen. This school is the best Adventist Theological Seminary in Europe.
After my training at Bogenhofen, I was appointed by the Ukrainian Union to be head of Hope Channel Ukraine. After starting out small, Hope Channel Ukraine has grown to include more than 25 different programs. In 2017, our channel was voted the most popular Christian channel in the Ukraine. Currently, there are five studios and approximately 140 employees, as well as volunteers at our Hope Media Group.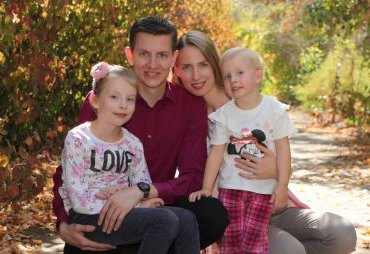 Michael Dil
Education Secretary and Head of the Theological Department of the Central Asian Adventist Seminary in Kyrgyzstan
The four years I spent at Bogenhofen were clearly some of the most blessed of my life. Studying at Bogenhofen offers a solid foundation on which you can thoroughly build your spiritual and professional future.
My fondest memories are the weeks-of-prayer and daily worship on campus. In Bogi, I came to understand what a personal relationship with Jesus Christ really means.
I deliberately chose Bogenhofen because I had met people there who impressed me by their spirituality, their love for Jesus and for His church. If I had to choose again, studying theology at Bogenhofen would be the number one priority for me.
Andreas Weber
Head of the discipleship project "1Year4Jesus" of the Adventist Youth, Germany
My time in Bogenhofen helped me to form deep roots in the Word of God and to experience personal growth, as well as to discover and train gifts and abilities. What struck me most positively, however, was campus life and the tasks associated with it (dorm management, youth leadership, Bible lessons, etc.) which made me more responsible and let me to experience joy in leading people.
My most treasured memories of Bogenhofen are the many hours in the library, together with friends -- research, study and new discovery. But the most precious experiences were accompanying young people in their decision for baptism and to witness them commit their lives to Jesus. The opportunities for personal growth offered by campus life, the manifold areas of responsibility, and the numerous opportunities for development would once again lead me to choose Bogenhofen as my theological training center.